The cast of Beaucoup Pop is back, bringing you everything you need to know about whats going on in the pop culture world...and maybe some things that you didn't need to know, BUT WE GIVE IT TO YOU ANYWAY!!!
Gather round Poppers young and old!!!! We've hit our
ONE YEAR
mark people! We honestly and truly could not have gotten to this point without you, the listeners. So first off...THANK YOU!!!
March kicks off the convention season for the BCP gang and this week's episode marks
PART ONE
of our
One Year/50th Episode
Convention Countdown!!! We're starting it off right with a slew of amazing guests who will be at the
Lexington Comic and Toy Convention
on March 24th. Stopping by this week we've got Sara Turner (
Cricket Press
), Kenn Minter (
Tales of the Emerald Yeti
) and Jason Sizemore (
Apex Publications
)!
I know I know...it's a lot of awesomeness for one week, but you're going to have to get use to it. It's the March Hullabaloo, Beaucoup Pop has caught the Con bug and the only cure is kick ass guests!
BCP Gang with Jason Sizemore from Apex Productions
Check out the episode here:
http://beaucouppop.libsyn.com/episode-49-convention-kick-off
Check-in to Beaucoup Pop on GetGlue!
Check Out Our YouTube Channel!
As always, b
e sure to check us out on
Facebook
, follow us on
Twitter (@beaucouppop)
and don't forget post a comment on the blog!
If you have any suggestions for show topics, shoot us an email to

beaucouppop@gmail.com

.
You can also subscribe to the podcast through

iTunes

,

PodOmatic

and now

Libsyn

!
Show Notes & Links:
You may be asking yourself...Episode 49, but what happened to episode 48? And if you not asking that...well, way to PAY ATTENTION! Episode 48 - THE LOST EPISODE will be a fan exclusive. You'll have to listen to the show to find out details on how to obtain your copy of this super SECRET episode!
Ralph McQuarrie's art from Star Wars.
R.I.P. Mr. McQuarrie
Hey, hey, we're The Monkeys
R.I.P Mr. Jones
Sara Turner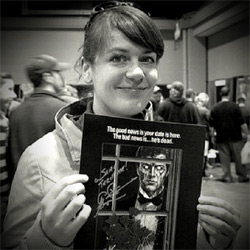 Sara Turner resides in Lexington, where she holds a Bachelor in Fine Arts from the University of Kentucky. She started work on The Ghosts of Pineville series in early 2009 with the mini comic The Cherished Collection of Emily VanWart. Since, she's created 2 books and 2 minis in total for the story. A third book is in the works and should be released in 2013. Along with her comics, Sara also works as one-half of the tag-team duo, Cricket Press, which specializes in custom screen-printed posters, letterpress, illustration and design.
Ghosts of Pineville by Sara Turner
Kenn Minter
Kenn Minter is the Art Director for UK's Creative Graphics & Web Design team. He has been working in the print industry for well over 10 years. Kenn is writting and inking the Experts and regulary cranks out a somewhat embellished, autobiographical comic strip called, I'm Not From Here. His newest title is Tales of the Emerald Yeti.
Also known as Apex Publications, Apex is a small press publisher dedicated to producing exemplary works of science fiction, horror, fantasy and non-fiction. Based out of Lexington, Kentucky, Apex Book Company is owned and operated by Jason B. Sizemore.
The company offers readers the ability to buy directly from the publisher or indirectly through other channels including Amazon.com, DriveThruFiction.com and BarnesAndNoble.com. In addition, most titles are available both digitally and as a print copy.
---------------------------------------------------------------
THIS EPISODE WAS BROUGHT TO YOU BY